Some beauty secrets for men
It so happened from time immemorial in our country, among people, that beauty is the prerogative of women. Allegedly, the prerogative of men - is power. Proof of this is a common phrase, which, by the way, both sexes exploit. This phrase says that "a man should be a little more beautiful than a monkey.
" But, as history shows, many men tried their best to prove the opposite, albeit unknowingly! Take at least the armor of medieval knights, who are more likely than their rivals, would have frightened the modern designers on the spot. And what can we say about all sorts of ornate dresses of palace men at the court of the French kings! In addition, men, who have always remained strong sex, have never been a stranger to certain cosmetic procedures , which allowed them to slightly improve their appearance.
The last century has dotted the "and" and showed that the desire to look beautiful is also not alien to modern men. The last century gave us such a thing as a "metrosexual" - a man of any sexual orientation who cares a lot about his appearance. All this could not help but create a certain culture of caring for oneself and one's body. In addition to expensive and stylish clothes, as well as building shapes in the gym, for men as well as for women, there are also certain beauty secrets that allow them to care for their skin, nails, hair and body. Some of them we offer to your attention right now.
Skin care
Many men think that caring for their skin is something that certainly doesn't concern them. In fact, they do not even suspect how important it is for any man to take care of the skin of his face in time. In men, for example, the skin of the face is 15 percent fatter than the skin of the face in women. Because of this, men, still at a very young age, there are many problems associated with the occurrence of acne, wrinkles and various physical defects. If you are interested in making your skin look younger as long as possible, then the following tips on caring for it are meant for you.
1. Clean, tone and moisturize your face every day! Men with very oily skin should use special detergent cosmetics, and not soap; a good gel for the face, which will act as a moisturizer, will not interfere. You can safely use special moisturizing clay masks for the face.
2. Use a facial scrub and do it at least twice a week. This will help exfoliate dead skin cells that do not go away on their own for a long time, as well as cope with the effects of acne. After this procedure, a great positive effect will bring face masks, as discussed above.
3. On an ongoing basis, use sunscreen lotions or creams that protect against the harmful effects of ultraviolet rays. This is especially important if you are going to spend a few hours under the scorching sun.
4. Before you start shaving, thoroughly rinse your face with warm water, washing it first with some kind of cosmetic cleanser for the face (but not soap). Soak the bristles literally for a minute or two. Shaving cream should be applied to the bristles in a uniform layer. It is better to use those creams that contain vitamin E or aloe vera extract. In this case, the process of shaving itself will not be so "shocking" for your skin.
5. After shaving, you must use special tonic cosmetics , and then you can put on the face a little moisturizing gel.
6. In order to entrust the procedure for cleaning the skin of the face to professionals, it would be nice to visit the cosmetology salon at least once a month. This is where you will quickly get rid of dead cells, acne and wrinkles! Do not take this advice with a bayonet - now a huge number of beauty salons that serve both sexes; A lot of those who serve only men.
Hair care
What worries can you ask? Hair - they have hair. I washed my dandruff shampoo twice a week, went to the hairdresser once a month - and it was done. However, not all so simple. There is a whole range of problems to which men do not pay (or do not want to pay) attention , possibly due to the fact that they are used to not doing this. Below are some of these problems, as well as suggestions on how to deal with them or avoid them altogether.
One of the most common hair problems that men face is, in fact, hair loss . Further, in terms of prevalence (and importance), there are problems associated with dandruff and gray hair. The main reason for these problems is the lack of caring for the hair that men allow themselves. Also to blame for not enough quality hair hygiene products. Not less trouble delivers dust, dirty air and the same unfortunate ultraviolet rays. So, how to deal with all these troubles?
1. The most important aspect to remember when it comes to hair care is the need to care for the scalp . In order to keep the skin on the skull healthy, use soft shampoos, which include soft surfactants . After washing it is necessary to apply conditioner on the head, carefully distributing it over the entire surface of the hair. In addition, to maintain the hair texture is recommended to use special balms and serum.
2. It is necessary to wash your hair at least three times a week . After washing, it is recommended to massage the hair and scalp, during which a special oil with vitamin E content is rubbed into the skin. The oil should be left on the hair for several hours before rinsing it with water.
3. Do not wash your hair with too hot water. Adjust the tap to barely warm, or even cool water - it hurts your hair and scalp much less .
4. Try not to use for drying hair or a dry towel, or, especially, a hair dryer. Such methods of drying lead to breaking of hair, which, in turn, can lead to significant loss of hair and, as a result, to complete baldness. Let your hair dry by yourself. In addition, you can not comb your hair until they are dry!
5. Try not to use all sorts of technical tools with which to straighten curly hair. This kind of treatment can severely damage the hair follicles - the hair roots, to which the sebaceous and sweat glands are attached.
6. Gray hair is also one of those problems that many men do not pay attention to. But there are those who are willing to do anything to somehow hide gray hair, which are the result of a lack of melanin - the pigment contained in each hair. Some experts say that in 30 percent of cases this process is reversible, but we are talking only about the gray hair that occurs at a young age . In all other cases, the most effective way to hide gray hair is just hair dyeing. It should be remembered that hair dye, with which you want to hide gray hair, should match your hair type and even skin color.
7. Try to cut your hair at regular intervals. As for how often you have to go to the hairdresser - it only depends on the length of hair that you are used to wearing.
8. Try to wear a hat. In hot weather, a hat, baseball cap, or cap will keep you from the harmful effects of ultraviolet rays. In any other weather it is also recommended to wear a headdress - then rain, dust, and dirty air will not be able to harm your hair.
Hand and nail care
It is noteworthy that even many women forget to take care of the skin of their hands and nails, so what can we expect from men? And indeed - very few people from the male population of the planet go into hand care activities beyond the banal nail cutting procedure (and even then, not always regular!). For the same men who are really eager to take care of their hands, it will be enough to follow a few simple tips, presented below.
1. Keep your hands clean and with every wash you should carefully wash off any dirt, especially that that accumulates between your fingers. Apply the moisturizer on your palm, rubbing it carefully into your fingers after each swim.
2. Despite the fact that a person calls himself "reasonable", many representatives of the most intelligent creatures on the planet have a persistent habit of biting their nails. Do not bite your nails! It is better to regularly put them in order by carefully trimming what has grown. After you have cut your nails, carefully treat them with a nail file.
3. It would be nice to at least sometimes go to the beauty salon in order to make a manicure. Male manicure is not at all the same as female. No one will paint your nails (although no one will refuse to do it if you want it!). It is only about removing the dead tissue and bringing the nails into a divine form. In addition to the aesthetic component, it will benefit the nails and fingers.
Foot care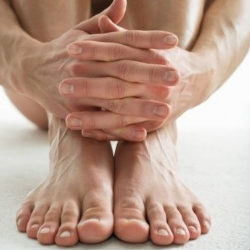 When they say that a man needs to take care of his legs, they mean, first of all, feet. Proper care will not only make the soles softer, ridding them of hardened dead cells, but also help to cope with the problem of dry feet and all sorts of infectious diseases , such as fungus. Observing the following few rules will help you keep your feet clean and healthy, which, you see, is important for both women and men.
1. Wash your feet regularly! Thoroughly flush the skin between your fingers - there is often accumulated dirt and moisture, which leads to infections.
2. Despite the fact that, as a rule, no one sees your feet and fingers on them, you should regularly cut your toenails and also process them with a nail file. Our legs and toes on them are deformed almost daily (mainly due to uncomfortable shoes). Improper care of the nails of the feet can lead to, for example, a nail growing into a finger; this may require the intervention of a cosmetic surgeon.
3. To keep your feet healthy, you should avoid excessive dryness of the feet. Dryness can also lead to cracks in the sole, through which the infection gets inside the body. Experts recommend using special cosmetics, such as lotions for the feet.
4. In order to remove clumps of dead cells from the soles, it is recommended to "scrub" them regularly with the help of a special stone - pumice . You can also "walk" with this stone in the ankles. Do this every time you take a shower, but remember that this procedure will be effective if you pre-steam the feet well in hot water or an infusion of herbs .
5. If you wear socks in the morning and do not plan to return home until late in the evening, then you most likely will not have the opportunity to change your socks during the day (especially since some people do not do this for a few days!) . This means that it would be a good idea to treat your feet with deodorant or talcum powder. This will help to eliminate the unpleasant smell that occurs due to the sweating of the feet.
There are many more rules, tricks and secrets that can help any man to bring their appearance, hair, condition of the skin of the face, hands to the ideal parameters - which is worth only the procedure of hair removal on the chest and armpits ! But, believe me, even following most of those tips that are presented above, you can already be seen among your friends as a real metrosexual.